With more time on our hands stuck at home, the pandemic brought about a lot of home-makeovers and garden DIY improvements. Some were not so great but some absolutely nailed it – and we want to show you the best from right here in Britain…
Kelly Boness is a dedicated DIYer who's renovating her house in Bedfordshire, UK, one project at a time. Her latest scheme saw her totally transform her ugly 90s courtyard, with its now iconic pink and cream patio slabs. "We knew we had an unusual space to work with," says Kelly. "It's a 'secret' side garden, so the aim was to bring the inside out and create a cosy yet functional space for entertaining." Not only has Kelly achieved this, but she's done so on a shoestring budget.
Kelly wanted to achieve a Mediterranean finish since her holiday had been cancelled due to the coronavirus pandemic. She started by pressure washing the patio to remove grime, then applied an off-white base colour from B&Q. Kelly sponged on a Moroccan stencil pattern, bought from Etsy, in order to achieve a subtle, rustic finish. Lastly, Kelly applied a patio sealer to protect the paintwork and finished the space with bamboo furniture. Total spend? Just £350
Gordale says: With a lick of paint and a few key accents like this garden mirror, you can really improve the look of a small space. Stick to small but attractive planters and install a trellis against the wall to encourage climbers and keep floor space decluttered.
Gordale
---
Gordale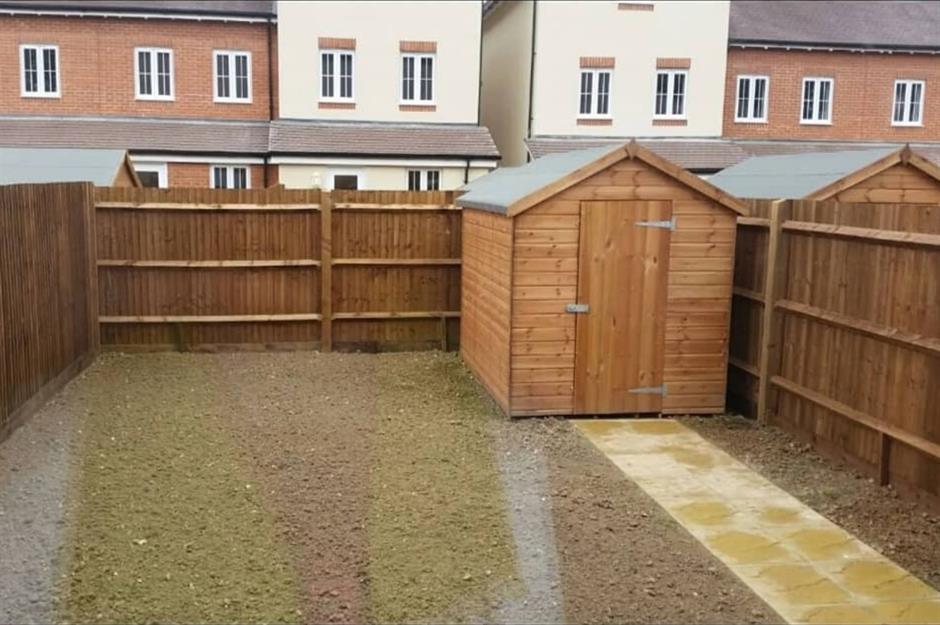 Gemma of Caffeine and Cacti is all about budget makeovers. Her new-build home in Southampton, UK, lacked personality until Gemma transformed it into a bohemian oasis on a shoestring. Her clever design skills extend into her beautiful garden, which was once an uninspiring blank canvas. Spending just £580 and utilising second-hand materials, Gemma and her husband have turned their boring yard into a picture-perfect paradise.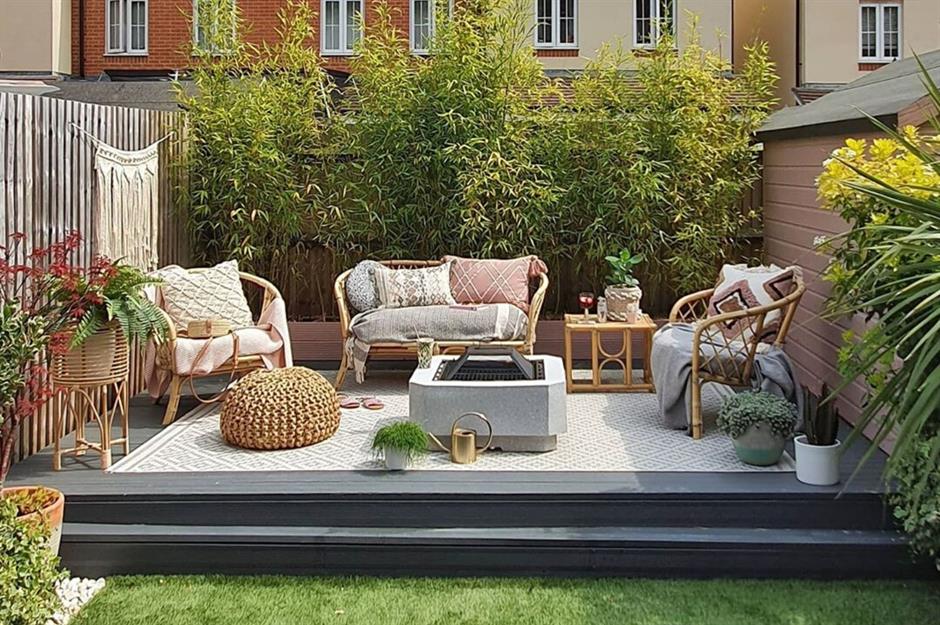 For the transformation, Gemma reclaimed old decking boards from her in-laws and sourced additional wood for the joists from her local builder's merchants. She bought extra matching patio slabs from Gumtree and her husband built surrounding planters, completing the space with bamboo furniture sourced from a thrift shop. The couple then finished the stylish deck with Frenchic paint and splashed out on some artificial grass, which means they never need to tend to the lawn again. Bonus!
Gordale says: Starting with a blank canvas like this can be daunting but also a brilliant bonus as you don't have to consider any plumbing or electrics to design around. Remember, when raising the height of your garden you may notice a decrease in privacy from onlooking neighbours but that's the beauty of tall trees and bushes!
Gordale
---
Gordale
Rebecca Anderson lived in a Victorian cottage in Scotland, before buying the house next door and beginning a major renovation project. Still working on improving the property, Rebecca and her partner recently decided to tackle their scarily overgrown backyard. A hot mess of weeds, broken fencing and shabby furniture, the pair opted to make their project super affordable, by upcycling what they already had to hand.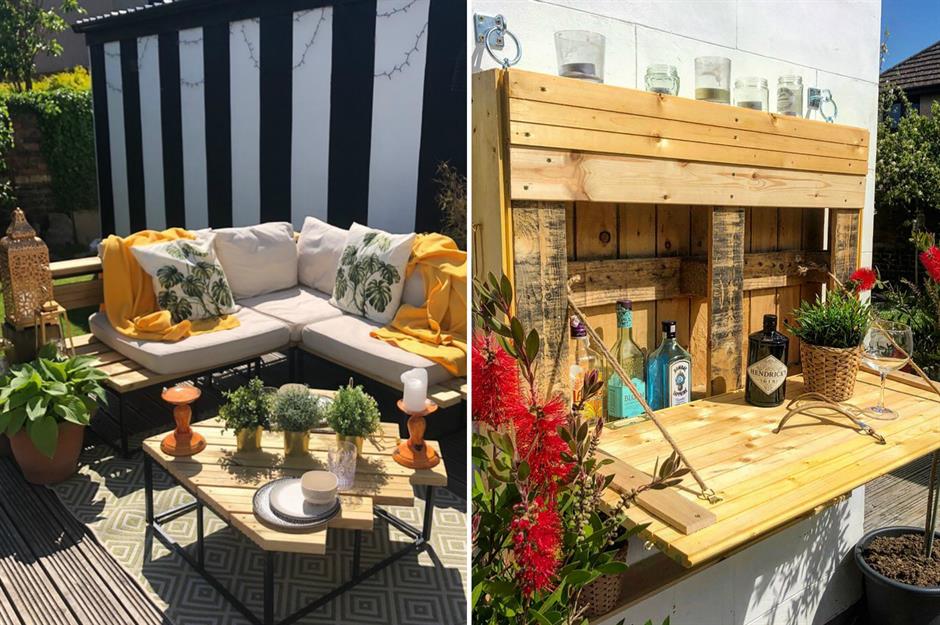 Spending just £110 on decking boards and spray paint, they built their own table and chairs by stripping their old rattan furniture and reusing the frames, which were in perfect condition. They removed the staples and wire brushed the metal, before covering the frames with black PlastiKote spray to give an even finish. Decking boards became bespoke seats, some of which come with cut-out wine glass holders. To complete their garden upcycling, they made a handmade wall-mounted gin bar, created from surplus pallets.
Gordale says: This is a truly impressive effort from the pair, and the result is so worth it. Throwing an outdoor rug down makes for a more pleasant experience when walking around barefoot in the summer and is inexpensive to buy. Candles and lanterns create a relaxing atmosphere to take the garden seamlessly from day to night when the party continues.
Gordale
---
Gordale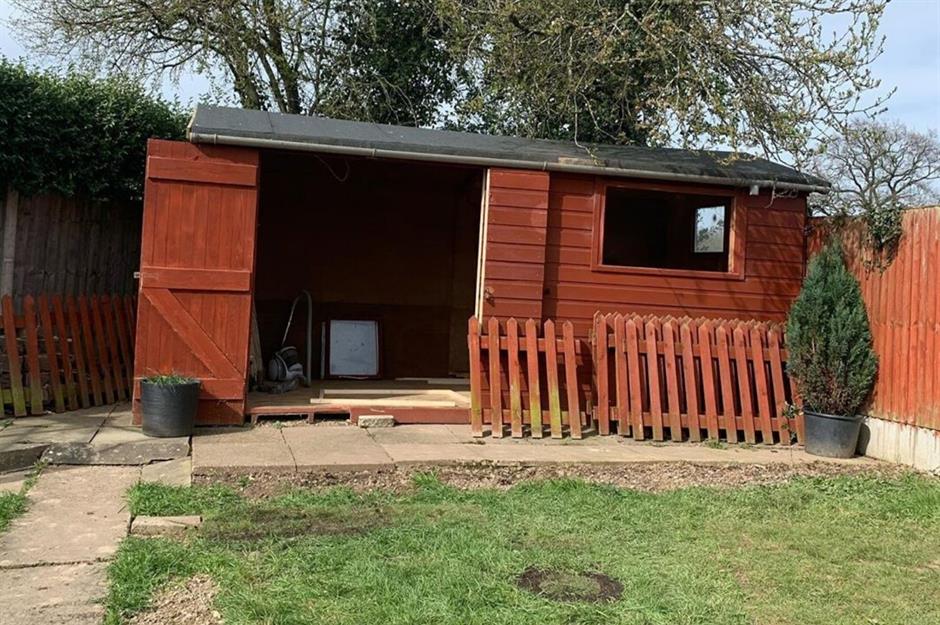 Upcycling addicts Vicki and Matt Westwood decided it was high time to do something about their dilapidated garden shed, which was making their outdoor space look old and tired. "We initially intended to take the shed down and build a seating area in its place," says Vicki. "But instead we decided to make the most of what we already had." After a lot of hard work, the pair has managed to build the summer house of their dreams, all for just £900.
Talk about dreamy garden room! To achieve the look, Vicki and Matt scrubbed the shed's walls and sanded the floor, which was no easy task. They decorated the inside with leftover paint from B&Q and used Frenchic's Swanky Pants on the exterior. They replaced the windows with Perspex and made new folding doors from scrap shed wood. Matt also built a bar, a seating area, a table and a window ledge from salvaged wardrobe timber. Gorgeous and made entirely from recycled items, this stunning garden shows that anything is possible with a little imagination.
Gordale says: Summer houses have become increasingly popular in recent years, with Brits spending thousands on creating the perfect outdoor sanctuary. Garden projects like these are often appreciated all year round as they provide shelter for those cooler evenings. Adding a fire pit would really bring this deck to the next level.
Gordale
---
Gordale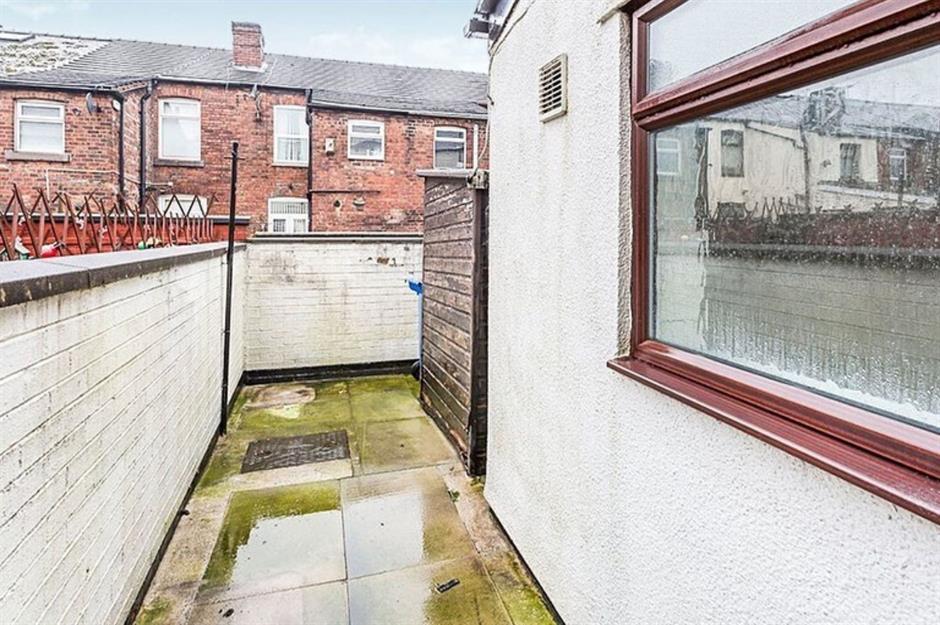 Levi Horton and her partner Tom Chamberlain wanted to spend more time outdoors during lockdown, but their rather unsightly backyard didn't make the prospect very appealing. Luckily for Levi, Tom knew just how to transform the space on a shoestring budget. Over the course of three weekends and with less than £500 to play with, Tom managed to pull off a truly remarkable facelift…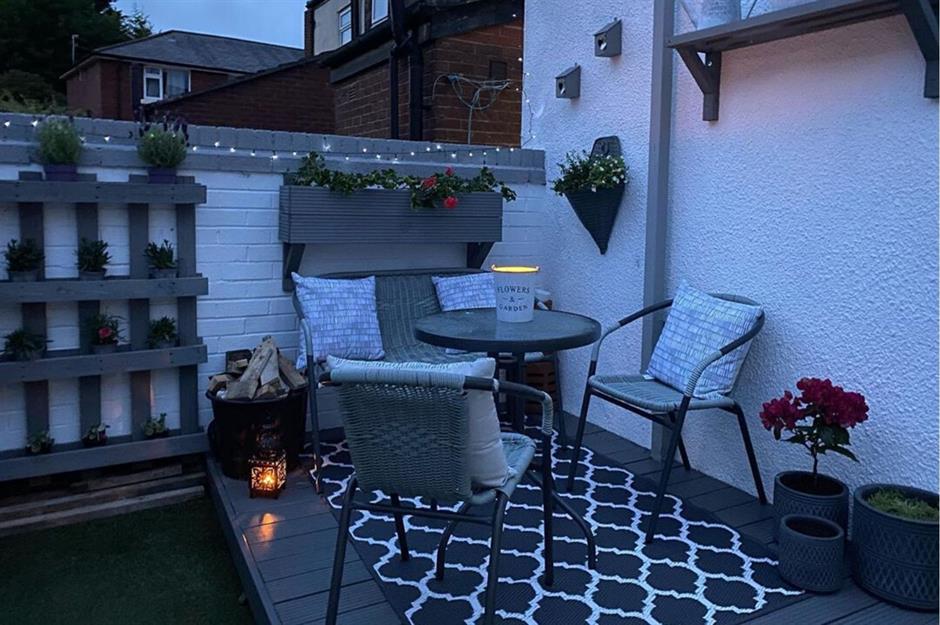 Bespoke and beautiful, the yard is romantic and perfectly suited to the couple's needs. Tom built borders and wall planters from reclaimed pallets and sourced furniture paint, decking, plants and outdoor lighting from discount stores such as B&M and Lidl. The couple were also gifted some artificial turf, while soft furnishings and pretty touches elevate the space. Tom loved the challenge so much that he's now started his own business, BEST Bespoke, helping others to transform their gardens on a shoestring.
Gordale says: Bringing the texture in through cushions, seating, planters and flooring – this space is a wonderfully matching oasis. Using secondhand materials saves money and adds that unique touch of a bespoke garden.
Gordale
---
Gordale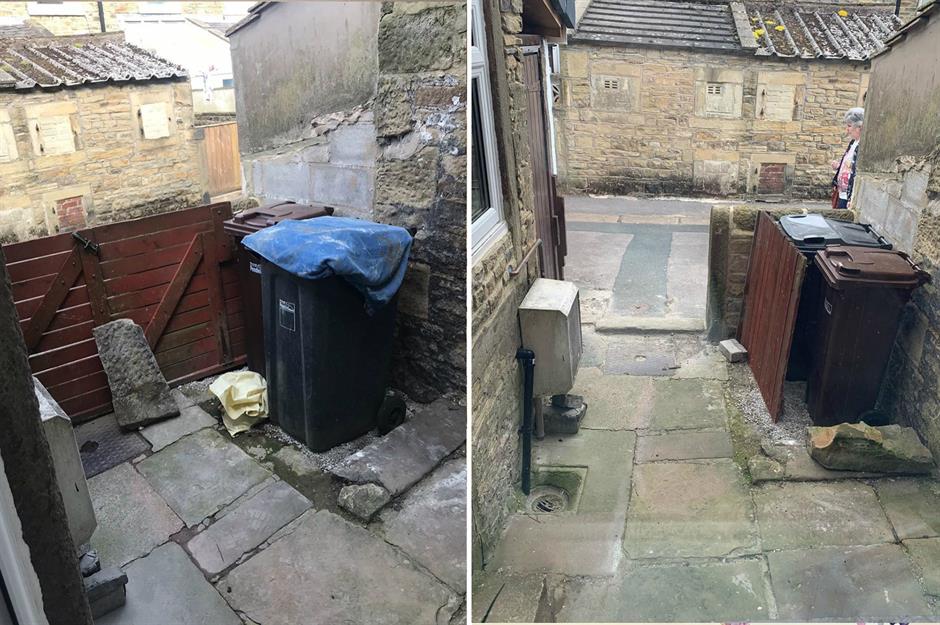 During lockdown, Paula realised her children had nowhere to play in their hometown of Barnoldswick, Lancashire. Restricted to a single hour's exercise a day, she knew it was time to turn her redundant driveway into a space the whole family could enjoy. "The boys needed a nice, safe place to play," says Paula. "And I needed somewhere private where I could sit outside."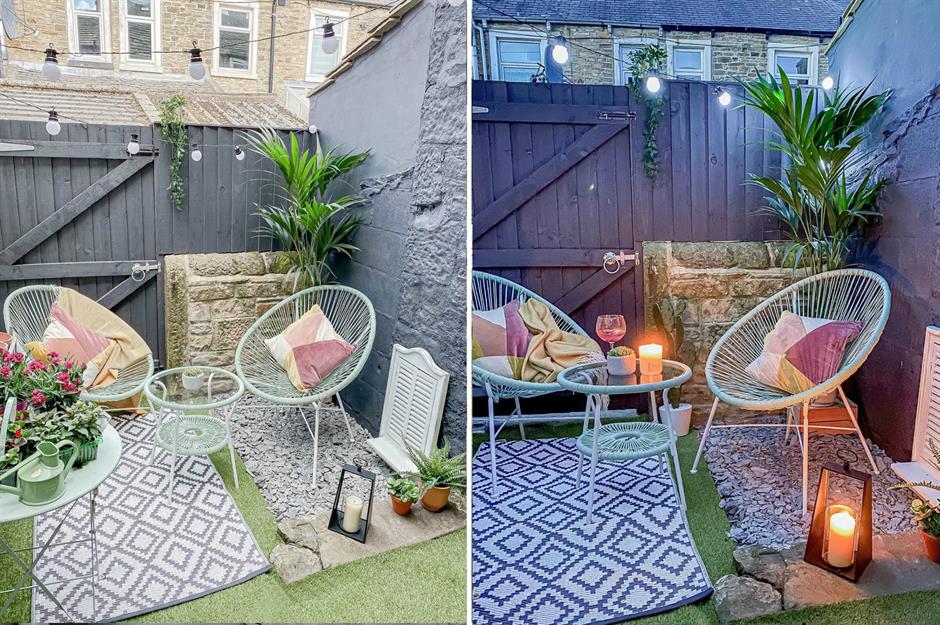 The project was straightforward yet effective and her cramped and boring driveway is now a chic and stylish 'yarden' that oozes Scandinavian appeal. Paula bought some faux turf and a pastel lounge set, adding lanterns and plants to her newly decorated space. She also installed new fencing and painted it in a cool slate tone. As for Paula's children, they love their new outdoor space. "Hearing the boys giggle and laugh as they play out there genuinely brought me happy tears," she says.
Gordale says: Proof that even the tiniest gap can be turned into something beautiful with a bit of outside thinking! This gorgeous bistro set makes the space look glamourous enough for grown-ups to enjoy an evening wine yet playful enough for kids to enjoy in the daytime. Festoon lighting above adds that magical atmospheric light that reminds you of being on holiday.
Gordale
---
Gordale
With a few simple changes and some inexpensive purchases, you can completely transform a tired, old garden or patio.
If you've got an outdoor lockdown project you're proud of – feel free to send it in or tag us on social media for a feature on our page!