Summer is the perfect time to grow your own vegetables! Not only are they delicious, but they're also a great way to reduce your carbon footprint. Here are five fantastic vegetables you should grow this summer and how to achieve the best yields.
Cucumber
Cucumbers are delicious – especially when you've grown them yourself and are perfect in salads, used as garnish for Summer cocktails, or simply chopped up for dipping. They're also really easy to grow from seed. You've just got to understand that there are two main types – greenhouse and outdoor plants and each requires a different treatment to produce a good crop. Regardless of how much space you have, you can grow cucumbers in pots or growing bags however first you must decide which type you would like… Greenhouse cucumber plants produce long, smooth fruits, much like the ones you find in the supermarket whereas outdoor varieties (called ridge cucumbers) tend to be shorter, plumper and they've got a rougher skin.
Cucumber seeds should be sown in a propagator between March and April. But you can get started in February if your greenhouse is heated, and in May to June if you plan to sow the seeds directly outdoors. The important thing to remember when choosing where to plant is that you should never grow ridge cucumbers in the same greenhouse as an 'all-female' greenhouse type; this will lead to cross-pollination, and your fruits will taste bitter.
GROWERS TIP: Ridge cucumbers can be pinched out at the main stem after seven leaves have formed, to encourage fruiting side shoots to develop.

Thompson & Morgan
Top tips for growing cucumbers
Keep your cucumber plants well watered to help them establish and to increase yields. You want them to be moist, not wet, so little and often is best.
Feed your cucumber plants with a high nitrogen feed every two weeks.
Cucumber plants like sun, but are prone to scorching, so some shade is preferable.
Encourage greenhouse varieties to climb to boost yields.
Harvest fruits early in the day while it's cool.
Harvest frequently to get more fruits during the season.
---
Tomatoes
You can't beat the flavour of home-grown tomatoes straight from the vine – and they're so easy to sow & grow! Simply choose your favourites from our huge range of tomato seeds and tomato plants on offer, and follow our instructions to make sure you enjoy a bountiful and succulent, sun-drenched harvest. Sow your tomato seeds in March or April, approximately 6-8 weeks before the final frost of the winter, or earlier if you're growing your tomatoes in a greenhouse. Sprinkle the seed thinly onto good quality seed compost. Cover with 1.5mm of compost and water lightly with a fine-rose watering can.
Tomato plants need a lot of water and feed if they're to produce a bountiful crop. For best results, water little and often. Some gardeners leave a few filled watering cans to warm in their greenhouse so the water is not shockingly cold from the tap or water butt. To save space, grow your outdoor tomatoes in hanging baskets, or upside down. Simply plant a young tomato plant through a hole in the bottom of a bucket or similar hanging container, and fill the container with multi-purpose compost. Suspend the bucket from a bracket and allow the plant to dangle beneath it.
GROWERS TIP: Some people claim that watering at exactly the same time each day makes a difference to the quality of the crop!

Thompson & Morgan
Top tips for growing tomatoes
Tomatoes need high light intensity to grow well, but too much can cause blotches, scalds or spots on the developing fruit.
Look out for green and white fly because both can spread viruses. Spray your vines with a recommended insecticide as soon as you notice pests.
For the best quality fruit it's best to limit the number of fruit trusses to six per plant.
Encourage greenhouse varieties to climb to boost yields.
Tie the plant to a support as it grows. Pinching out the side shoots as they develop concentrates the plant's energy into producing fruit.
Start picking your tomatoes as the fruits ripen and gain full colour.
---
Lettuce
Lettuce is on everyone's shopping list, it's a refrigerator staple across Britain and sales see a huge increase during the Summer months when the weather is too warm for hot lunches and dinners. Growing your own lettuce is fruitful, easy and fun with so many varieties to choose from that will spruce up your salad. Lettuce grows well in containers making it an ideal crop for a small urban garden, balcony or windowsill and tastes miles better than any shop-bought greens. Once you taste fresh-picked, it will be hard for you to go back to buying the stuff in the supermarket.
Sow seed on moist, well-prepared soil or compost in spring. Cover with a very thin layer of compost or vermiculite. Thin seedlings out when they're big enough to handle and keep the compost moist. protect from slugs and snails. Lettuce takes up to 10 weeks to grow – you can pick loose-leaf lettuce varieties from six weeks, and at 10 weeks for hearting types.
GROWERS TIP: For a steady supply of lettuces, sow seed every 14 days from March through to September.

BBC Gardener's World Magazine
Top tips for growing lettuce
Keep the area around the plants weed-free and protect young plants from slugs and snails.
Use copper-impregnated matting or mulch the soil with sharp grit or crushed seashells.
The secret for rapid growth is frequent, light watering and giving each plant sufficient room.
Start picking baby loose-leaf lettuces at six weeks, at 10 weeks for hearting types.
They're best picked in the early morning before the leaves dehydrate in the sun.
Eat lettuces as soon as possible after harvesting, as the leaves will quickly go limp
---
Chili Peppers
Growing chillies at home is easy, and there's a huge variety of different types to choose from. Whether you want flavour, heat or colour, there's a chilli pepper seed for every occasion. Homegrown chillies can be delicately mild or fiercely hot. Incredibly versatile, you can grow them on sunny windowsills, in a greenhouse, or directly in the ground. They're also perfect for containers and their brightly-coloured fruits are a great way to brighten up conservatories or patios.
The hottest varieties need the longest growing period. If you didn't give yourself enough time to grow from seed this year, don't worry, you can buy chilli plants from us too. Water your chilli plants regularly throughout the growing season, and once the first fruits have set, feed them weekly with a high potash tomato fertiliser. Growing chillies indoors? Do remember to open windows and doors to provide insects access to the flowers to ensure good pollination.
Chillies are usually ready to start harvesting in about July. The more you pick, the more chillies your plant will grow. Towards the end of the season you might like to leave chillies on the plant a little longer, allowing them to mature until they achieve a deep red colour and intense flavour. This will let the plant know to produce less fruit, so wait until you're ready to slow down.
GROWERS TIP: If the weather starts to cool before your crop has fully ripened, bring your plants indoors and let them ripen on a warm sunny windowsill.

Thompson & Morgan
Top tips for growing peppers
Pinch out the growing tip of the first flowering shoots to promote more branching and a better harvest.
Water regularly but sparingly. It's best to keep your soil a little on the dry side because slightly stressing your chilli plants helps to produce hotter peppers.
You will get a much wider choice of varieties if you buy from garden centres and nurseries.
Chillies can be dried, prepared with garlic and oil to make a paste or pickled in vinegar.
Chillies will be ready to pick from late summer. For the mildest flavour, pick chillies while they're still green, leave them to mature for more heat.
Allowing plants to dry out completely between watering will also make the fruits hotter.
---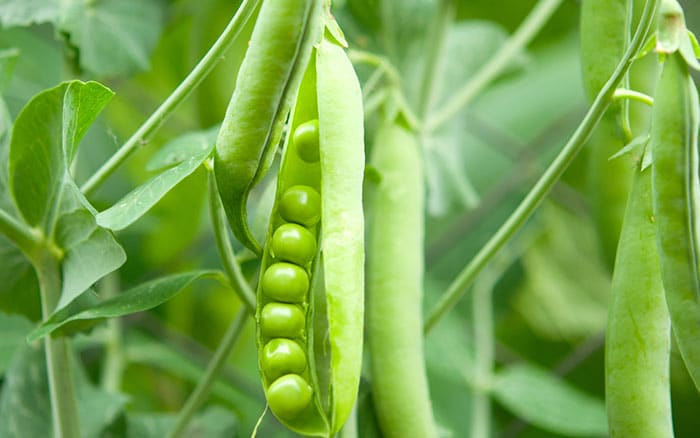 Peas
Freshly harvested peas are delicious and easy to grow yourself. Grow a shelling variety for traditional, fat, round, garden peas, or try an edible pod like sugar snaps or mangetout. Peas thrive in a cool climate, so are perfectly suited to growing outdoors in the UK. What's more, you can sow your own pea & bean seeds or buy them as garden-ready pea & bean plants if you're looking for a quick shortcut to healthy homegrown veg. Shelling varieties produce large, sweet and juicy peas that need to be removed from their pod to eat and should be sown from early spring. First early varieties produce a crop just 12 weeks after sowing whereas maincrop peas will start to crop from June to September.
A good source of vitamin C and manganese, sugar snap peas can also be eaten whole and taste great raw or cooked. They make a fun addition to children's lunchboxes and provide a quick and healthy snack straight from the plant. Even if you have limited space, you can still grow peas in containers, grow bags or a special vegtrug on a balcony or by the kitchen door.
GROWERS TIP: At the end of the season, leave the roots of your spent pea plants in the bed. This will allow all the nitrogen stored in the roots to stay in the soil.

Thompson & Morgan
Top tips for growing peas
Direct sow pea seeds outside in the garden between February and June.
Choose from shelling, mangetout or sugar snap varieties.
Make sure you support developing pea plants with netting or sticks.
Harvest peas 11-15 weeks after sowing.
Don't feed your pea plants, just incorporate plenty of organic matter into the soil before planting.
Harvest your peas every day to encourage more pod production.

So if you want to cook delicious and nutritious meals all summer long without breaking the bank then you'll want to include some of these top 5 vegetables in your garden this year! Not only are they delicious and nutritious, but they're also eco-friendly and easy to grow. If you want to learn more about each of these veggies and how to grow them successfully this summer, ask a member of our plant team or come in store and browse our huge range of vegetable plants and seeds. Thanks for reading and we hope you've been inspired!